ARTA has a wide range of microwave antennas for different capacity demands and frequency bands designed to operate with all types of radio relay equipment.

ARTA's microwave antennas are built on technology from ARTA by skilled people with many years of experience in WG and antenna technology. Our antenna design has been delivered to all regions of the world.
Antenna Descriptions

Single Polarised
Standard Performance

Ultra High Performance
High Performance

Dual Polarised
Standard X Performance
High X Performance
Ultra High X Performance
Super High X Performance
Microwave antennas for extreme weather environments!

Designed to withstand all weather conditions
ARTA's microwave antennas are designed and manufactured to meet rigorous demands concerning environmental conditions and demanding specifications. Our antennas have been delivered to all regions of the world for both commercial and military use (Dual Technology) with proven reliability in all kinds of climatic conditions.

For very extreme conditions we have a heavy duty version capable of enduring arctic storms with heavy icing, the harsh environmental of the North Sea and tropical hurricanes.
Antenna Versions

Normal duty antennas are designed to operate under climatic conditions prevailing in most parts of the world. The antennas will survive 55 m/s wind together with 25 mm ice.

Heavy duty antennas are designed to withstand the most severe climatic conditions, with heavy wind and ice. The antennas will survive 70 m/s wind together with 25 mm ice.

Arctic duty antennas are built to withstand the onslaught of arctic storms and the ice loading common in areas like the mountains of winter Norway. The antennas will survive 80 m/s wind together with 25 mm ice. Some of the electrical specifications might be reduced.


Rigorous test procedures


To verify performance according to customer requirements, our antennas are tested in authentic conditions at an outdoor test range, located nearby our factory (Far-field Test Range) This test range also enables thorough testing of new antenna concepts and technologies before full-scale production. For the testing of electrical components, well-equipped laboratories and anechoic chambers for taking accurate measurements are available.

Electrical definitions


Gain
Relative to an isotropic radiator stated at three frequencies, bottom, middle and top of the band. VSWR. Guaranteed maximum value for the operating frequency band.

Beamwidth
Half-power beamwidth (-3 dB) stated in the middle of the band.
Front-to-back ratio

Radiation level relative to the main beam at 180 degrees.

Tolerances Gain
Frequency < 3GHz ± 0.3 dB
Frequency > 3GHz ± 0.2 dB

Radiation pattern
Production antennas do not exceed stated value by more than 2 dB.

ARTA's Antenna Code System

The fist two numbers indicates the nominal electrical diameter:
03 = 0.3 meter 20 = 2.0 meter
04 = 0.45 meter 24 = 2.4 meter
06 = 0.6 meter 30 = 3.0 meter
12 = 1.2 meter 37 = 3.7 meter

Two - three or four letters stating the performance grade:
SP Standard Performance
SXP Standard X Performance
HP High Performance
HXP High X Performance
UHXP Ultra High X Performance
SHXP Super High X Performance

The number following thereafter indicates the lowest frequency in 100MHz.

The figure after the first dash indicate:
- 1 Single polarisation
- 2 Dual polarisation

The letter after the second dash indicate:
- 0 Without radome
- F With flexible radome, type PTFE
- P With flexible radome

Example: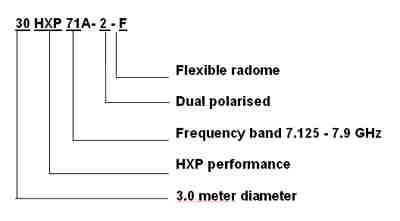 Go to the top
Extensive experience
ARTA has extensive expertise and proven capabilities in the area of antenna design and waveguide components. Arta has wide range of antennas, each designed for maximum performance according to system configuration and antenna location.

All the antenna constructions are continuously being improved to match the development in system design. Extensive use of CAD/CAM techniques combined with human skills and high quality raw materials are the main factors in achieving the optimum of antenna characteristic. All antennas produced are made to customer specified order based on proven techniques ensuring that the finished product meets the stringent parameters required.