The antennas consist of:
• A parabolic aluminium reflector with a shield for sidelobe suppression.
The outer surface is spray painted. Standard colour is RAL7038.
• A hot dip galvanised steel antenna mount.
• A buttonhook type, low VSWR antenna feed. The feed horn is sealed for pressurisation.
A smooth continuous polarisation adjustment may be performed.
• A flexible radome for environmental protection.

Electrical specifications
The electrical specifications are given in the Radiation Pattern Envelope for each type of antenna. This specification is a maximum curve, which is derived from actual measurements.

A three dimensional chart specify the cross-polarisation performance close to the main lobe of the antenna. The off-axis cross-polar sidelobes are given in the individual RPE.
Tabulated values of the main characteristics are given for all frequency bands and diameters.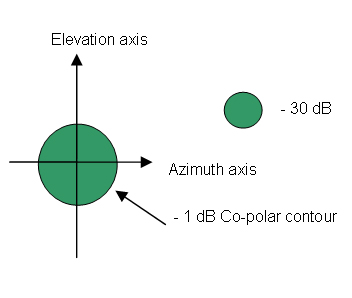 Go to the top